In Memoriam: Sri Sri Daya Mata
(January 31, 1914 – November 30, 2010)
A Life of Love, Humility, and Devoted Service to God
On November 30, 2010, our beloved President and Sanghamata, Sri Sri Daya Mata, peacefully left this world for the joy of her eternal home in God. Chosen by our Guru to lead his work and serve as a spiritual mother to those drawn to his teachings, she has been a guiding force of inspiration, wisdom, and compassion for Yogoda Satsanga Society of India/Self-Realization Fellowship monastics and members alike as spiritual head of Paramahansa Yogananda's worldwide society for more than 55 years. She will be deeply missed by all those whose lives she touched by her love and understanding, and by the integrity of her spiritual example. Yet, as she often said, "Divine love reaches beyond the boundaries of this life," and she will ever remain in our minds and hearts, as one who lived Gurudeva's ideals to the fullest and who cared for all of God's children.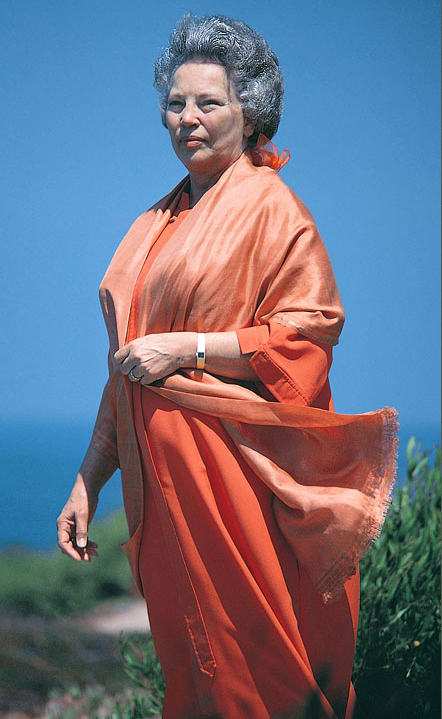 Sri Daya Mata led an extraordinary life – nearly 80 years of which were spent as a monastic disciple in her Guru's ashrams, her thoughts ever permeated with love for God and her actions dedicated to serving Him. She radiated a rare strength and love for all while at the same time carrying out the vast responsibilities of overseeing Paramahansa Yogananda's spiritual and humanitarian work. She was a true "mother of compassion" —as her name signified— offering unconditional love and kindness to all who crossed her path and praying daily for the countless souls who asked for her spiritual help.
An exceptional example of true humility, Daya Mataji always put God uppermost in her consciousness. She once said, "I often remind myself: I am what I am before God and Guru, no more and no less. I make no claims to being perfect or to possessing great talents or abilities; my endeavour in this life is to perfect one thing—my love for my God." In her faithfulness to that goal she became a pure channel for His love to flow to so many souls.
Her life was one wholly given to serving God and humanity through her Guru's teachings. She was a supreme example of how to live a balanced life, remaining steadfast in her spiritual routine and finding joy and fulfilment even in the midst of her demanding responsibilities. She once said, "I am able to carry on all these duties not in spite of our spiritual routine, but because of it. That is where my strength, inspiration, and guidance come from—meditation in the morning, noon, and evening; and keeping my mind constantly focused on God in between meditations, as Paramahansaji taught us."
A Unique Family of Disciples
Born Faye Wright in Salt Lake City, Utah, on January 31, 1914, Daya Mata grew up in a unique family. Her mother, sister, and two brothers all became disciples of Paramahansaji. Her sister, Ananda Mata, became a nun of the SRF Order in 1933, and served for many years as a secretary and treasurer of the SRF Board of Directors. Her mother, Shyama Mata, joined the ashram in 1935. They both served dedicatedly in the small group of the Guru's closest disciples until their passing. Her brother, C. Richard Wright, assisted the Guru during his extended trip to India in 1935-1936, and passages from his fascinating travel diary are quoted in Paramahansaji's spiritual classic, Autobiography of a Yogi. He and her other brother, Dale Wright, remained lifelong followers of the SRF/YSS teachings.
A Yearning for Something More Satisfying
From her earliest years, Daya Mata had a deep longing to know God. At the age of eight, when she first learned about India in school, she felt a mysterious inner awakening, and with it a conviction that India held the key to the fulfilment of her life. When she returned home she told her mother that she would never marry and that she would go to India.
She began to feel that something was missing from her church experiences and yearned for something more satisfying. When she was 15, she was given a copy of the Bhagavad Gita, which had a profound impact on her because through it she learned that God was approachable and knowable, and that His children were divine beings who, through self-effort, could realize their spiritual birthright —oneness with the Divine. It was then that Sri Daya Mata resolved that she would devote her life to seeking God.
Sri Daya Mata's First Encounter with Paramahansa Yogananda
In 1931, at the age of 17, Daya Mata attended a public lecture with her mother and sister at the Hotel Newhouse in Salt Lake City. The speaker was Paramahansa Yogananda, who had been travelling across the country giving lectures and classes on the science of Yoga to capacity crowds in America's most prestigious auditoriums. It seemed unlikely that this shy young girl from Salt Lake City would have any opportunity to meet the Guru. However, Daya Mata had long suffered from a severe blood disorder, and, while attending the great swami's classes, attracted his attention because of the bandages covering her swollen face.
She described her meeting with Sri Yogananda: "My whole being was absorbed in the wisdom and divine love that were pouring into my soul and flooding my heart and mind." She was determined to become the great yogi's disciple.
Video: Sri Daya Mata describing her first encounter with Paramahansa Yogananda
Sri Daya Mata Joins the SRF/YSS Monastic Order
Sri Daya Mata recalled Paramahansaji's asking her if she believed that God could heal her. When she said yes, he touched her between the eyebrows and said to her, "From this day forward you are healed. In one week the bandages will no longer be necessary. Your scars will be gone." It happened exactly as he predicted. Soon after, with the support of her mother, Daya Mata moved to Los Angeles and joined the Self-Realization Fellowship Monastic Order on November 19, 1931. Paramahansa Yogananda with Sri Daya Mata With an eager and receptive heart, she absorbed her Guru's guidance, and he saw in her the potential for the vital part she would eventually play in his mission. During the first Christmas at Daya Mata's new home —The SRF/YSS international headquarters and ashram centre atop Mt. Washington —Paramahansaji had placed a little glass egg on the divan where he knew she would sit. When she asked him why he had put it there, he told her: "You are my nest egg. When you came, I knew many other true devotees would be drawn to this path."